About Us
From plastic welding to Xena, the legendary warrior princess
and anti-landing devices…
Dura-Weld a plastic fabrication company was founded in 1995 by two utility professionals, providing products to the Cruise, Yacht, Boat, RV and Utility Industry. Through our unique abilities of welding and forming plastics, this enabled us to develop many new and unique products still being used by our customers today.
In 1999, we were contacted by one of our utility customers to design and fabricate a conical shaped perch preventer. This would eliminate birds from roosting in certain areas, thus eliminating the problems that go along with it, power outages and corrosion. With the ability to fabricate prototypes, this alleviated the utility from having the expense of creating tooling to have these products manufactured just for testing. Also with our utility experience this provided another level of service because the product was being developed by a lineman to be used by lineman. Crews nicknamed the part Xena because it looked like something the princess warrior would wear. So the name and the testing began.
Testing is a Success
In 2000, our product testing was completed and successful so we began creating a tool to have our product rotationally molded to increase production and lower cost. We have continued to add new products over the next decade which is being used by various utilities throughout the U.S.
Today
We still are developing and making our anti-perch devices that have become an industry standard to protect the electrical utility companies' assets and to provide a safer environment for our avian friends.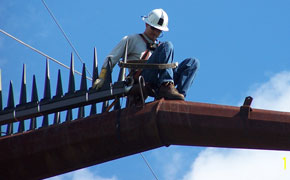 Satisfied Customers
Xena Bird Discouragers have a proven track record of reducing the risk associated with raptors and large birds around power line structures. All utility companies investigate power outages in their efforts to deliver increased reliability and customer satisfaction.
Searching for the unknown causes of some outages, a major Florida Utility found that bird streamers, or was causing transmission power line flashovers.
Avian researchers found that Xena Bird Discouragers were the most effective of all deterrents tested. In field tests, installing Xena Bird Discouragers on lines resulted in a very significant reduction in outages. The Xena Bird Discouragers are now becoming a standard in the industry to stop streamer flashovers on their H-Frame transmission structures and Spar Arm structures.
Combining your knowledge with our engineering expertise, we can quickly create a Xena product to fit your specific application.